Outreach & Offsite Programs
Help us relaunch our Outreach programming in 2023!
While AcroSports' on-site classes at our Frederick Street facility are gradually returning to pre-pandemic levels, our Outreach program has yet to be fully rebooted. Can you help us significantly increase AcroSports' impact in the community by making a contribution to help ensure Outreach returns in 2023?
The infographic at right and the video below highlight just how robust our Outreach program was prior to the pandemic. Since reopening our main facility in 2021, our focus has been on rebuilding staff & programming on-site, while we waited out the various COVID-related challenges of relocating those programs to school and community sites. Now that those difficulties have subsided, we are poised to retain the staff and reforge the community connections necessary to reinstitute Outreach in 2023; we need only secure the funding needed to make it happen.
In the first half of the 2019-2020 school year, our Outreach programs provided free & subsidized gymnastics, breakdancing, tumbling, parkour and circus arts training to over 1,000 youth in 23 different in-school and afterschool programs, predominantly for low-income San Francisco children and youth. At that same time, programs on Frederick Street served roughly 1,100 youth per week; meaning that, by providing Outreach, we essentially doubled the number of local youth we were able to serve. Won't you help us return to that vastly expanded reach by making a donation today?
Thank you so much for your contribution, and we look forward to returning to Outreach in 2023!
Follow our former Outreach & Offsite Manager on a typical day bringing an AcroSports program to a local school! Programs outside of our Frederick Street facility are currently on hiatus due to COVID, however we do plan to relaunch them as soon as is safely possible. If you have any interest in starting an AcroSports program at your school or community site, please contact AcroSports Executive Director, Dorrie Huntington.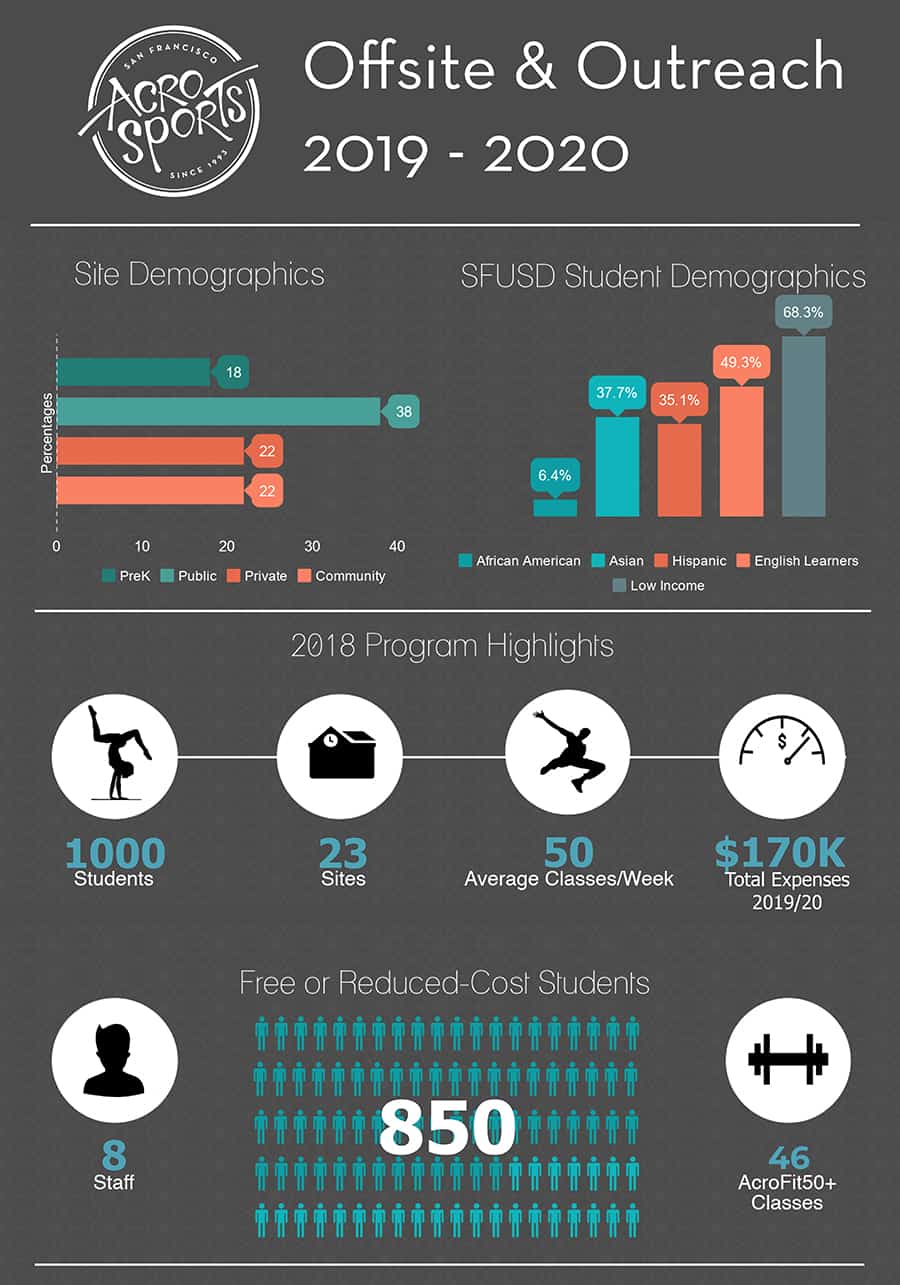 2019-20 Outreach & Offsite Schools and Community Program Sites
Alice Fong Yu Elementary
Buchanan YMCA
Buena Vista Horace Mann K-8
Chinese American International School
French American International School
Gan Noe Preschool
Gordon Lau Elementary
Harvey Milk Elementary
La Scuola
Little Urbanites Preschool
Live Oak School
Longfellow Elementary
Lycee Francais de San Francisco
Marin Prep
Mission Boys & Girls Club
Presidio Knolls
San Francisco Friends School
Spanish Infusion
St Anne's Preschool
St Phillip's Preschool
Sunnyside Elementary
Sweet Peas Preschool
Tenderloin Community School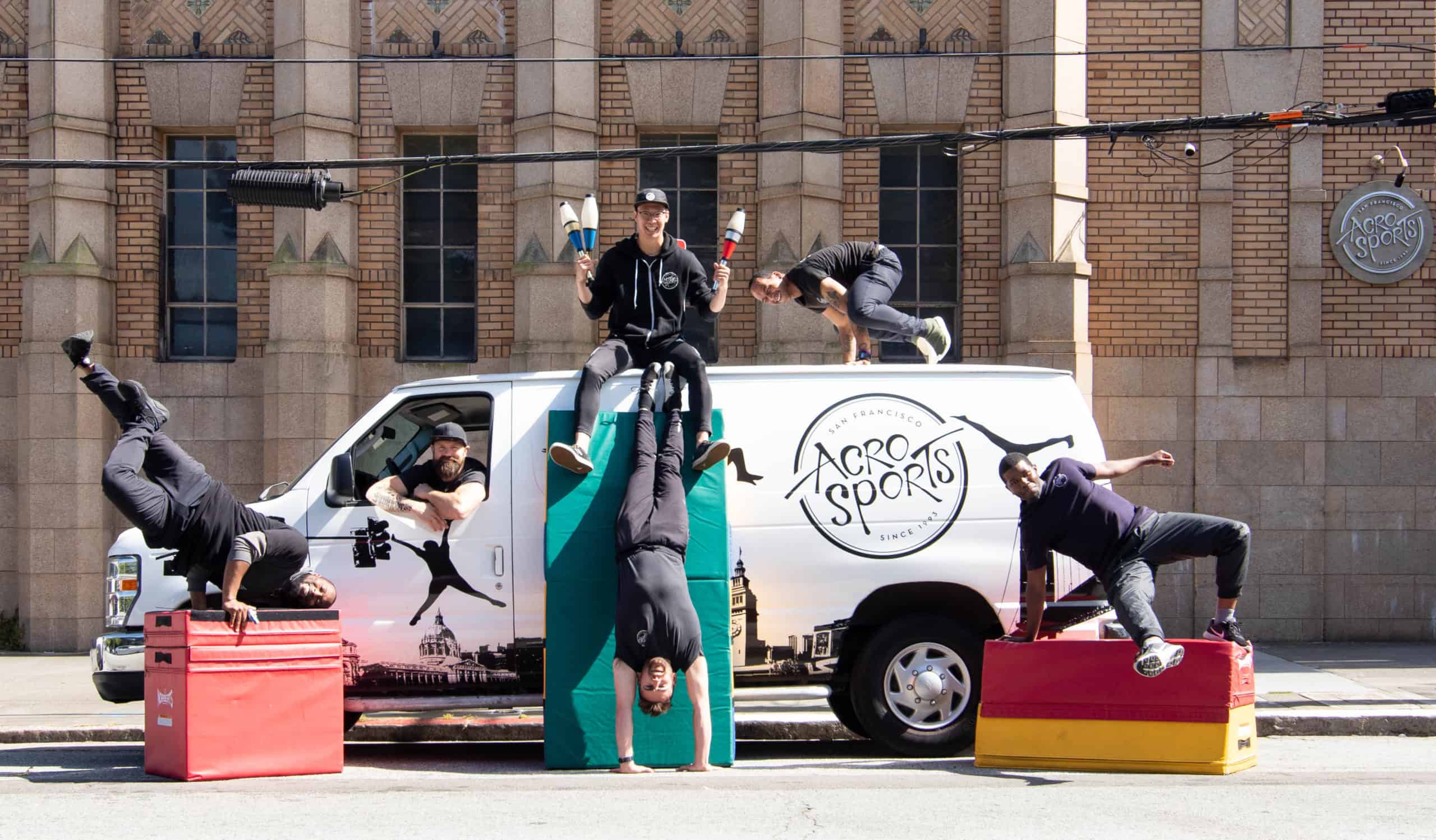 AcroSports Zanzibar 
On the International level, under this same mentorship model,  AcroSports is helping to improve the lives of vulnerable children in Zanzibar, Tanzania.  Read more about our longstanding relationship with youth groups, projects and events on the island here.
Special Needs
AcroSports provides specialized programs that address the needs of children with autistic spectrum disorders, sensory integration dysfunction, coordination difficulties, and ADHD/ADD. We also host a weekly Special Needs Open Gym for students to drop-in with their parents and caregivers to explore our space, socialize, and build physical confidence. Special needs students are also encouraged to enroll in any of our regular session programs that are a good fit for where they are at developmentally.  Programs are offered on a fee-based structure, and for those who need it, Tuition Assistance is available.
Tuition Assistance
AcroSports provides financial assistance to qualifying families to help offset tuition fees for Preschool and Youth classes and Camps, and is available for private lessons for students with special needs.  Please see our Tuition Assistance page for more information.  We distribute an average of $25,000-30,000 per year in Tuition Assistance funds.
Internships 
Our Teen Internship program trains youth participants to become teachers and positive role models, while building job skills.  Interns get to work as part of a team, and gain an understanding of the safety knowledge, skills, and responsibilities of AcroSports staff, and are mentored by the AcroSports staff with whom they work. They also learn basic workplace roles and expectations (AND get paid!). Each type of internship has a required number of training hours, and vary in length and commitment, depending on the focus of the internship. When interns complete their training, they can apply to become members of AcroSports' Junior Staff.
Donate!
As mentioned above, many of AcroSports' in-school Outreach programs are highly subsidized; some sites pay as little as 25% of our total costs for the program.  Additionally, every other component of the community outreach efforts listed on this page - Tuition Assistance, internship programs, AcroSports Zanzibar - is paid for out of pocket, offset only by current reserves, and the generosity of donors.
You can help us continue to provide these programs by making a tax deductible donation to AcroSports!  Please visit the Donate page of this website to make your contribution today.