Personalized Training
In addition to regular group classes for both kids and adults, AcroSports also offers private lessons for ages 6 and up in a variety of disciplines.
Our newly revamped facility - complete with a new rigging apparatus, lighting, fresh paint job, and a floor-to-rafters deep clean - is ready for you to return to the most unique workout facility in the Bay Area!
Please be aware that due to the high class volume at our gym, we can only accommodate private lessons during the following times:
Weekdays:
12:00 pm - 3:00 pm
6:00 pm - 9:00 pm

Weekends:
8:00 am-12:00pm (depending on discipline)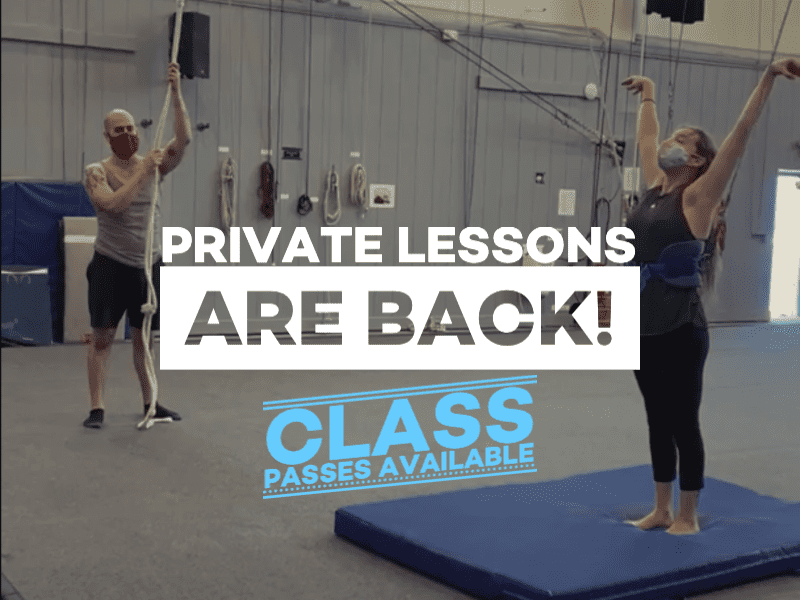 | | # of people | 1 hour |
| --- | --- | --- |
| Private | 1 person | $90 |
| Semi-Private | 2 people (Semi) | $65 / person |
| Group | 3+ people (group) | $50 / person |
Please fill out the appropriate Private Lesson Request Form.
You will receive a confirmation once you've submitted your request. A member of our team will be in touch with you within 1-2 business days. Please note that it can take up to 2 weeks to connect you with a coach and get your first lesson booked, and we can not guarantee that there will be a coach available to fulfill your specific request.
Once you fill out the request form, we will direct you to the best fitting coach who will take over scheduling your lesson.
Once you have been matched with a coach, you will be directed to our billing process. Please do not purchase any packages until you have received direction to do so from your coach.
"Minors cannot register themselves for private lessons, but need a parent or guardian to do this for them. This involves a different process than an adult signing oneself up, and it is imperative that parents follow this procedure, the instructions for which can be found here. Resolving an account of a minor that has been setup incorrectly is no small task for our limited admin personnel; note that accounts for minors that are not set up as advised will incur a $10 administrative fee if they need to be corrected."
Private lessons are available in 1-hour increments. Lessons for less than one hour are not available at this time.
Semi-Private Lessons for 2-3 students are available to students who have already arranged for all participants of their lesson. Each student will need to create their own accounts and purchase their own lesson packages. AcroSports does not locate or pair you with a second or third student for your semi-private request.
Lessons will be pre-paid at the time of reservation.
More specifics regarding appropriate COVID protocol & precautions during your lesson will be included in your reservation confirmation. You can also find that information visiting our Covid-19 information page here. Please make sure to review this information prior to arriving at AcroSports; we expect all students to follow these new rules in order to ensure the continued health & safety of our community.
Aerial Conditioning

Achieve full body toning, power, and flexibility, while reviewing the fundamentals of aerial skills.

Breakdancing

A hip-hop dance form that incorporates acrobatic moves and trademark bgirl/bboy movement & style.

Cheerleading

Focus on cheer jumps & tumbling, especially great for anyone planning to try out for a team.

Conditioning

Exercises, drills and protips on improving strength and flexibility to improve development in essentially any physical discipline.
Gymnastics

A traditional sports discipline involving various apparatus, including parallel bars, beam, high bar, rings and pommel horse, as well as floor work.

Hammock/Sling

The sling can be static, spinning, or swung like a hammock, and is a great starting point for anyone who wants to engage in the aerial arts, as it exercises the whole body, including the core.

Hand Balancing

A graceful art form involving demonstrations of flexibility, balance, and athleticism, often performed in pairs, though can also be done solo.

Hoop/Lyra

The lyra is a heavy, metal hoop suspended from the aerial rigging. Learn basic mounts, dismounts, poses, transitions, and other maneuvers using this sturdy but graceful frame.
Hula Hoop

Learn on-body and off-body hula hoop skills & tricks, and develop hoop sequences that flow effortlessly.

Parkour

The urban art of uninterrupted forward movement through, over and under obstacles with creativity, strength and flow.

Stretching & Flexibility

Work out your stress and support your overall physical health by increasing muscle flexibility while simultaneously strengthening various muscle groups.

Tissu (Silks)

An aerial art consisting of a long stretch of hanging fabric that is climbed and manipulated by an aerialist to create striking displays of physical artistry, such as spins and falls.
Trampoline

Drills, conditioning and tricks on hot bed competition-grade trampoline.

Trapeze

Perhaps the most familiar of the aerial arts, our trapeze is static (as opposed to "flying"), or can be spun. Learn skills specific to this challenging apparatus.

Tricking

A martial arts approach to acrobatics, with a focus on kicks, flips, and twists, that takes its cues from the disciplines of Capoeira, Breakdancing, and Gymnastics.

Tumbling

Tumbling - The "floor work" of gymnastics - i.e., rolls, jumps, handsprings, tucks (flips) etc - done on a sprung gym floor.
24-Hour Cancellation Policy: As a courtesy to our instructors, please allow 24 hours notice for cancellations and rescheduling requests. Cancellations/rescheduling requests that occur less than 24 hours before the scheduled appointment are subject to a fee equal to the full cost of the private lesson. We regret that we cannot make exceptions to our 24 Hour Cancellation Policy. The same policy applies to No Shows.
New students MUST create a MindBody account online here.
A $10 Administrative Fee will be charged to correct any private lesson accounts set up for minors that are done so incorrectly. Please refer to the directions in the "How it Works" tab on this page for parents/guardians establishing accounts for their children.
Once you are matched with a Coach, ALL communication regarding your lesson should be directed to your Coach, NOT to the AcroSports front desk.
Maximum private lesson size is 3 students.
Semi-Private Lessons are available to students who have arranged for all participants of their lesson. Each student will need to create their own accounts and purchase their own lesson packages. AcroSports is not available to find the second student for your semi-private request.
Participation in AcroSports Private Lessons does NOT qualify students for Priority registration for the Youth or Pre-K Programs.