Ages
Party Location
Floor Time
Party Room Access
Total Duration
Number of Participants
Special Activity Options
Party Room Access

40 minutes

Total Duration

1 hour 40 minutes

Special Activity Options

Trampoline OR Zipline+Net Combo
Floor Time

1 hour 15 minutes

Party Room Access

45 minutes

Special Activity Options

Trampoline OR Zipline+Net Combo
Floor Time

1 hour 15 minutes

Party Room Access

45 minutes

Special Activity Options


Trampoline or Zipline+Net Combo or Parkour Obstacle Course


Party Location

Lower Floor

Floor Time

1 hour 15 minutes

Party Room Access

45 minutes

Special Activity Options

--
Tots Parties are available on:
Saturdays
1:45pm | 4pm

Sundays
12:30pm | 3pm
Basic, Premiere, and Ultra Parties are available on:
Saturdays
2pm | 3:30pm | 5pm | 6:30pm (not available on Acro Fun Nights, 2nd Saturday of the month)

Sundays
2pm | 3:30pm | 5pm
Basic, Premiere, and Ultra Party Packages Include:
1-1:15 hour Main Floor access

Trampoline OR Zipline+Net Combo OR Parkour Obstacle Course (Ultra Package Only)

40-45 min. Party Room access

Napkins, Plates, Cups, and Utensils

Party Room Set-Up and Clean-Up

Please note that Tots Parties take place entirely on the Lower Floor and include 1 coach.
Main Floor includes: 40' x 40' spring-loaded gymnastics floor, trapeze, mini trampoline, TumblTrak trampoline, and foam pit.
Lower Floor includes: Tot-size trampolines, gymnastics bars, climbing wall, foam pit, dance floor, rainbow tunnel, obstacle courses, and aerial equipment.
Party Room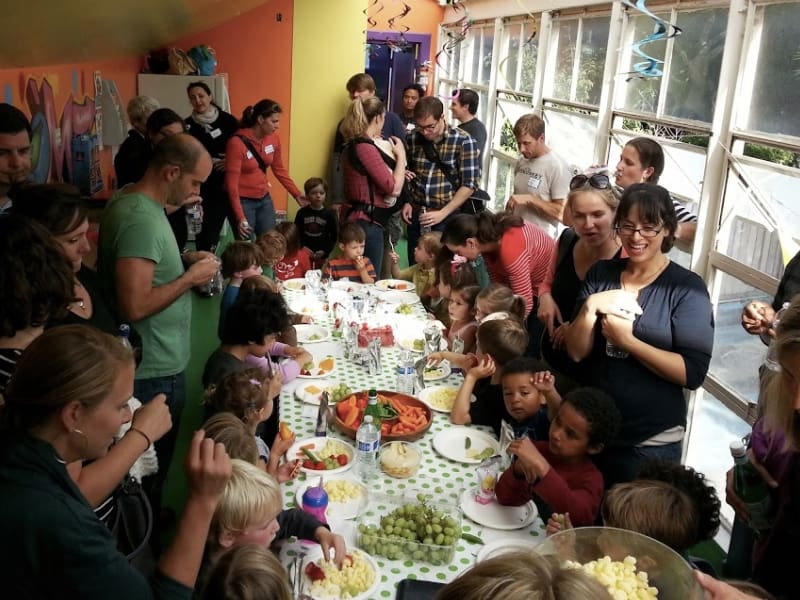 Party Room includes: Table cover and compostable plates, cups, napkins and utensils. You supply the food; we'll take care of the rest!
The Net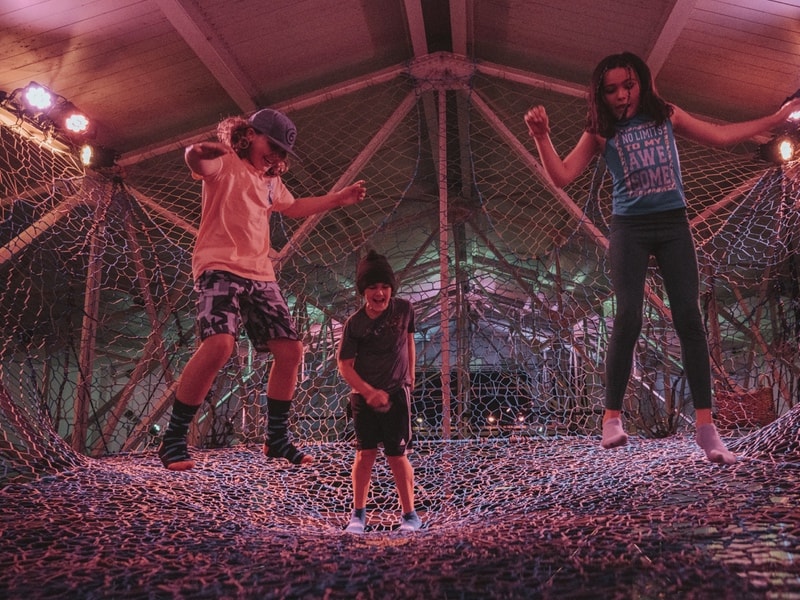 The Net is the latest addition to our facility, and one of the special activities to choose from. It is a strong woven surface for children to bounce and play above the Grandstands.
Party time slots fill quickly!
We strongly suggest that you book your party at least 6-8 weeks in advance.
Sample Party Timeline
3:15pm Host family arrives.
3:20pm Guests arrive and meet in the grandstands.
3:30pm The party begins! Guests enjoy free play and supervised activities on the floor.
4:25pm 🎵Happy birthday🎵 Photo opportunity for parents on the main floor before children transition to the party room upstairs.
4:30pm Time for cake and food in the party room! Utensils are provided.
5:10pm That's a wrap! Guests depart, and Birthday Coaches assist with party room cleanup.
Frequently Asked Questions
If your child is under 5, book a Tots party.

If your child is 5, you have the option of either a Tots or a Youth party, depending on the ages of your guests. 

For children over 5, book a Youth party.
Each Youth party package has a maximum limit to the number of guests. Our recommendation is to book the package that most accurately reflects the number of kids you're expecting to host. If you're not sure, we recommend booking a Premiere Party (20 participants). You will have the option to upgrade to the Ultra package (25 participants) if you exceed twenty participants, and you will still enjoy the extra time on the main floor and in the party room.
Zipline+Net is the most popular option. It is best for ages 4+, and it is a great feature because it can accommodate a lot of ages.
Trampoline is for ages 7+.
The Parkour Obstacle Course turns the main floor into an interactive obstacle course with blocks and mats, and is great for children 7+ interested in gymnastics or parkour.
Any and all children participating on the gym floor contribute to your guest total. Adults attending will not.
For Youth Parties: If you exceed the maximum number of guests for your booked package, you'll need to upgrade to the next package to accommodate more guests. We can only upgrade the Basic (15 participants max) or the Premiere (20 max). You can not upgrade past the Ultra package (25 max). We do not allow party package downgrades, so please be sure of your headcount when choosing to upgrade.
For Tots parties: The package comes with a maximum of 20 participants. You may upgrade to up to 25 participants for a fee of $10/participant.
No, 25 is our absolute maximum due to safety reasons.
Yes. However, children under 3 will require a parent or guardian on the floor with them for the duration of the party.
Please keep in mind that the trampoline itself is limited to ages 7+. The rest of the floor is available to all ages.
Older children are permitted to attend parties, but must be mindful of smaller children around them while on the gym floor.
Infants and toddlers will contribute toward your headcount if they are playing directly on the gym floor, but not if they are strapped into a baby carrier worn by an adult.
All reservations and party payments must be made through our booking website. Our front desk staff can answer any questions you may have about parties prior to booking, but you will ultimately need to do that yourself online.
The full cost of your party is due at the time of booking. This price includes a $50 nonrefundable deposit.
Yes, but you must contact our office to book your party prior to making your reservation online. We cannot retroactively apply a credit.
You have the option to upgrade your party package up until the day of your party, except in cases where you've booked a time slot that does not allow for a time extension.
Yes. There is no fee if you contact us to reschedule at least 3 weeks before your party is scheduled. If you reschedule within 3 weeks of your party, there is a $50 charge.
You must contact our office directly to reschedule your party.
Yes, you will receive a refund, less the $50 nonrefundable deposit, if you cancel at least 3 weeks before your party date. If you cancel within 3 weeks, the following policy applies:
2-3 weeks before your party: You will receive a 75% credit after the $50 deposit is deducted.
1-2 weeks before your party: You will receive a 50% credit after the $50 deposit is deducted.
1 week - 48 hrs before your party: You will receive a 25% credit after the $50 deposit is deducted.
48 hrs before your party: No credit or refunds will be given.
Credits will be valid for 1 year.
You must contact our office directly to cancel your party.
All pre-paid tips that may have been paid at the time of a reservation will be fully refunded, regardless of cancellation date
You must contact our office directly to cancel your party.
We recommend arriving early to find street parking. Paid parking is also available at the Kezar Lot (Stanyan and Beulah), and at the UCSF Millberry Union Public Garage (Irving and 3rd Avenue). The white zone outside our facility is for loading only.
Host family of Youth parties: Please bring all food, beverages, cake, and other party items to the office on the Main floor (second doorway up the stairway from Frederick Street). Our office staff will notify you when the party room is available so that you can bring your items upstairs.
Guests of Youth parties: Head upstairs to our grandstands. The party will begin with a short safety briefing and introduction with your coaches.
For all Tots parties, hosts and guests alike: Head directly to the Lower Level through the brown door (first doorway up the stairway from Frederick Street).
No, unless yours is the first party of the day. Our parties are booked back-to-back, so you will not be able to enter the party room until the previous party has left and our staff has cleaned the room. They will inform you when you can head upstairs to set up. The party room is already brightly painted, but if you'd like to add decoration, we recommend tablecloths or table decorations. We do not allow taped decorations, to protect the paint on the walls.
Parents are welcome on the floor and may volunteer to assist the coaches, but are not allowed on the trampoline or TumblTrak. Parents are also welcome to stand on the side of the floor and encourage their kids. We ask that parents serve as positive role models for their children, and not demonstrate any tricks that may be dangerous for children to attempt.
Our party coaches will be supervising, demonstrating safe use of equipment, guiding children through activities, and assisting with party set up and clean up. However, there is no formal coaching or teaching during the party.
We provide compostable tableware including cups, plates, napkins, and utensils. You will be expected to provide anything else you might need, including but not limited to: food, beverages, candles, matches, serving dishes and utensils, and a cake knife.
AcroSports does not allow piñatas or alcohol.
Our staff will help set up the tables and things you bring, but food prep and serving are not included.
Yes. Please bring all supplies to the office and let our staff know what needs to be stored in the refrigerator or freezer.
Yes. We recommend Cybelle's Front Room as they frequently deliver to our location and they understand how our parties operate. But you are welcome to order delivery from anywhere.
For Youth parties, direct them to the second floor via the double glass doors. For Tots parties, direct them to the bottom floor through the first entrance.
Schedule the delivery 15-20 minutes before your party is scheduled to move into the party room (40 minutes after your party begins for the Basic package, and 1 hour after your party begins for all other packages).
Parents of anyone attending the party must fill out a waiver online. Students who have signed a waiver within the past year or students who are enrolled in the current session of classes do not need to sign a waiver.
As of Monday, March 14th, AcroSports will officially become "mask optional," with neither staff nor clients required to wear masks on the premises (though it is highly encouraged!), and we will no longer be requiring proof of vaccination of adult students. To learn more read our Covid Update - March 11, 2022 blog post.