AcroYoga incorporates teamwork, strength building and body awareness through learning unique acro poses, postures, and flows. AcroSports has two opportunities to help you develop your skills through our instructor-led AcroYoga class and a more open flow with our new AcroYoga Jam.
Max Stuart has been practicing AcroYoga for over 4 years and coaching for more than 2 years. "I love that the AcroYoga community is a cooperative environment where you build trust with others rather than competing against others. It's fun, keeps you healthy and fit, allows you to connect with people and it's a great workout!"
His Saturday AcroYoga class from 1:30 – 3:00 p.m. focuses on instructor-led poses from beginner all the way to more advanced skills. No yoga mat, no prior experience needed to learn. This class is perfect for those who enjoy less impactful movements, but still want a workout and the chance to learn new and challenging circus skills.
One of the foundations of AcroYoga is safe practice and learning how to spot and correct body positions. Max commented, "It's better to practice in a safe space when you have a spotter than trying new skills at the park without any mats. My favorite part of this class is helping others gain new skills."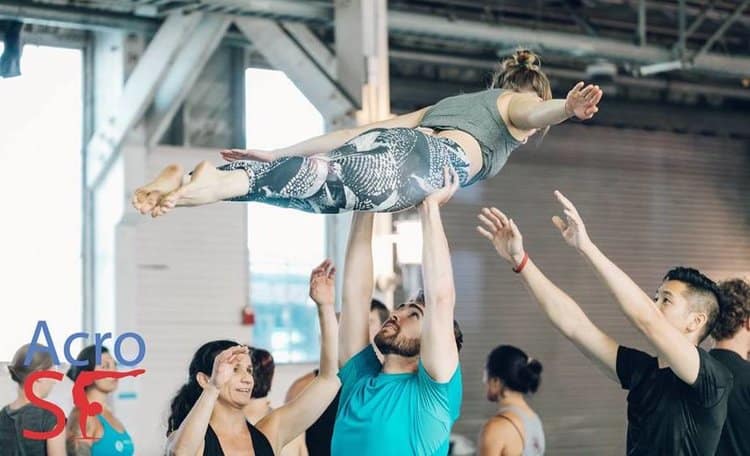 AcroYoga Jam is an open space to develop your own practice, skill-share with others, and engage with like-minded people on Friday nights from 7 – 8:30 p.m.. Best part is that you can get a 4 class pass for $28! Come and jam with us!
Max is hosting the AcroYoga Jam and said, "I'm excited AcroSports has opened the space to allow our community a place to meet on a Friday night to connect with new people while trying new and challenging poses."
Sign up here!