Fall Session 2022
From gymnastics to circus arts and parkour, AcroSports offers fun and challenging classes for children ages 18 months and up.
Monday, August 29th – Sunday, December 18th
(closed on September 5th and November 22nd – 27th)
Registration Dates:
Priority Registration
Monday, August 8th, 10am
(for Spring 2022 and Summer 2022 students)
Sibling Registration
Friday, August 12th, 10am
(for siblings of students in Spring 2022 and Summer 2022 students)
Must submit registration request to info@acrosports.org firmly beginning at 10am
(honored in the order in which they were received)
Camper Registration
Saturday, August 13th, 10am
(for campers enrolled in any of our Summer 2022 Camps)
Open Registration
Monday, August 15th, 10am
(Open to all students)
FOR MORE INFORMATION AND TO REGISTER,
VISIT OUR WEBSITE:
www.AcroSports.org/kids-classes
---
AcroSports continues to offer
our programming to adults also!
From hand balancing and breakdancing, to tumbling and parkour, when the kids are away the adults come out to play!
Find the full schedule of class offerings on the Adults Page of our website. We have a 3 class pass special offer for new students, have brought back the 10 class pass, and more booking options available for you to check out.
Hope to see you in a class soon!
---
Letter from the Executive Director
It's that time of year again! AcroSports' Fall session is about to begin, and our Leadership Team has been planning for an expanded schedule of classes and is excited to see the gym back in full operation. Whether you're a first-timer or a returning student, we welcome you to enjoy your training and time spent at AcroSports.
As we come to the end of our summer programming and are preparing for our 15-week Fall session of classes, I would like to take a few moments to say thank you.
---
Congratulations to our AcroStaffers of the Month!
Ivy Roberts-Wright
June 2022
In the mere four+ months that Ivy has been on staff, they have already proven to be a crucial member of the AcroSports PreK and Camp teams. Always on time and arriving with a great attitude, Ivy has a fun and creative energy that instantly connects with PreK and Youth students. Ivy is also an active subber (thank you!), and they recently took over PreK Open Gym on Saturdays, really saving us in a pinch. Ivy has also stepped into the role of AcroCamp Jr's lead coach, a significant responsibility during a summer that is going to be wall-to-wall campers here at the gym. Most notable, perhaps, is that Ivy's students love them and look forward to coming to AcroSports because Ivy is their coach!
Jack Huntington
July 2022
Our longest-running volunteer by far, Jack has literally been on the scene at Acro since Day One. Over the decades, Jack has always been around to troubleshoot and/or inevitably fix whatever needed tending to, nevermind if it's a last minute or middle-of-the-night concern (or that he wasn't paid). He has also famously served as our unofficial nighttime caretaker for years, double-checking that doors are locked & lights out while out on his regular evening walks.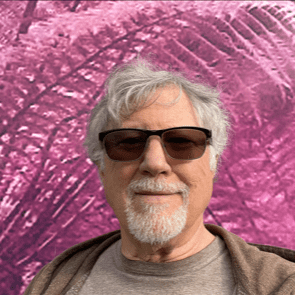 Upon Jack's recent retirement from United Airlines, AcroSports at last made it official, and asked him to join the staff as our resident Handyperson. And not a moment too soon, either! The #handyjack Slack channel is poppin most days, and Jack's incredible response time to regular requests for his assistance around the gym have already earned him superhero status. And speaking of superheroes – did you hear about the AcroStaff member who recently chased down a Recology truck that had mistakenly snatched a family's waiting stroller from out front, successfully stopped said truck, and got the stroller back? Yeah, that was Jack.
---
We are hiring!
Do you know anyone interested in joining our amazing team?
Refer a friend and if they are hired, we will make it worth your time and effort!
Head Aerial Coach
The Head Aerial Coach is a vital member of AcroSports' Coaching Team, working collaboratively with other Program and Administrative.
Aerial Coach
We are searching for aerial coaches for beginner and advanced youth and adult classes.
Coaches for all levels
AcroSports is currently hiring Coaches for all skill levels, for all of our programs (PreK, Youth, Adult, Parties, Camps).
PreSchool Movement Coach
We offer opportunities for beginner coaches and experienced coaches to work with preschool ages and recreational levels.
Birthday Party Coach
We are currently seeking energetic, friendly, and engaging individuals to facilitate our children's birthday parties and other special events!
---
Summer Camp Highlights