Winter AcroCamp Registration
Our popular week-long camps engage students, ages 6 to 12, in challenging physical activities like tumbling, dancing, and circus arts to give them a chance to build strength, flexibility, and mind/body awareness. Our talented team of coaches promotes the notion that challenging new skills can be achieved through the application of effort.
Registration:
Monday October 24th @10am
Winter AcroCamp Dates & Tuition
Dec 19-23 ($540, 5 days)
Dec 27-30 ($432, 4 days)
Visit Website for more information
---
Come and join our amazing team!
Click below for full job descriptions and compensation info.
Apply today or forward to someone you think would be interested.
---
Volunteers needed to help with our 30-year anniversary celebrations!
AcroSports will be celebrating our 30th anniversary in 2023 and are looking for friends, family, parents and students to help with the planning and execution of events that will take place throughout the year.
Here are the areas in which we need volunteers:
Community Events
Advertising and Public Relations
Sponsorships & Fundraising
Special Events Planning
Silent Auction
To get involved, please email Founder and Executive Director at dorrie@acrosports.org to let us know what you are most interested in helping with.
We look forward to hearing from you!
---
Congratulations Erin and Elijah!
We are thrilled to announce that veteran AcroSports coaches and Co-Program Managers Erin Conn and Elijah Jennett were married on Saturday, October 8th. Elijah's father officiated a memorably lively afternoon service at the Conservatory of Flowers, fittingly matched to the pairs' own lively energy.
Fun fact: Erin & Elijah are officially the fourth "AcroSports Couple" to have met here and eventually marry, so the gym definitely has some positive juju going for it in that regard! Erin & Elijah first met at AcroSports' 20th Anniversary Gala in 2013; despite both having been on staff for nearly a year at that point, their coaching schedules were such that they didn't actually cross paths in the gym before then.
Fast forward to the present day, and their paths not only cross more regularly, but the two now also share the significant responsibility of managing our PreK, Youth and Adult programs. They've earned a much-deserved break from that for a few weeks, however, while they honeymoon in Costa Rica. We wish them nothing but the best on that adventure, as well as for their future together.
Congratulations and much love to Erin & Elijah from your Acro family!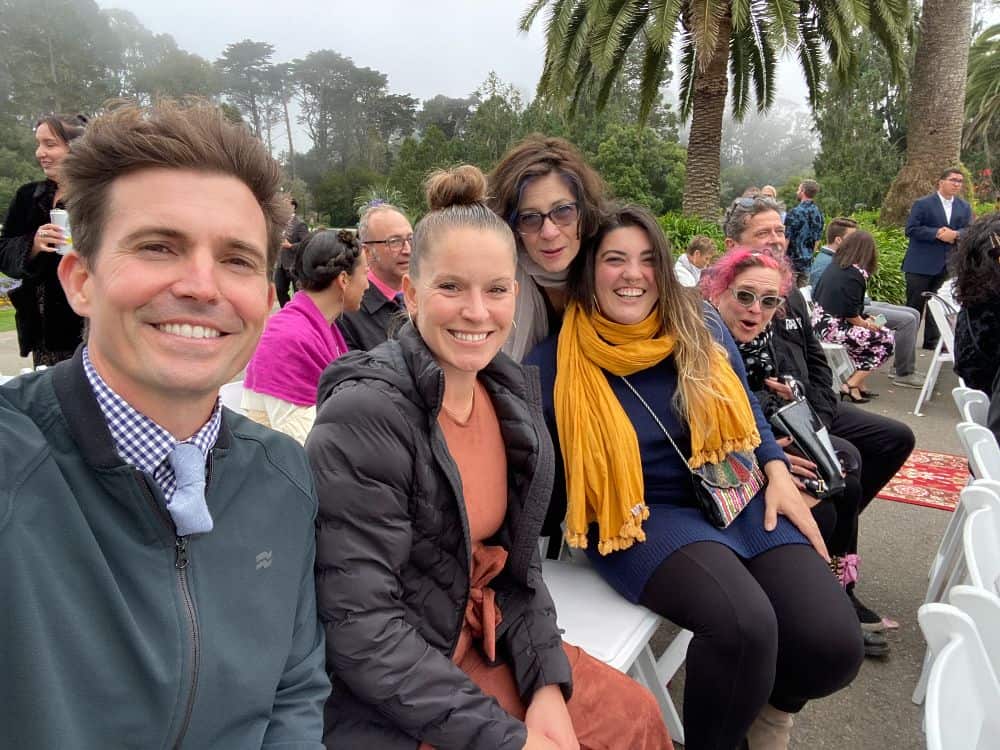 Expand your Circus skill set with MeeZee!
Come train a with a Classic American Circus & Sideshow artist in the modern day!
MeeZee (aka The Chairman of Cheers, Clown Prince & The Royal Rogue of Sideshow) has been performing professionally for close to 20 years. Specializing in the daredevil balancing art of Chair Stacking he has shared his impeccable balance at death defying heights with the world, and now you can take classes with him at AcroSports!
MeeZee's Class Schedule
HANDBALANCING
Tuesdays: 07:00 PM – 08:30 PM
Wednesdays: 12:00 PM – 01:30 PM
Thursdays: 12:00 PM – 01:30 PM
ACROBATICS
Wednesdays: 06:30 PM – 08:00 PM
---
AcroStaffers of the Month
August / September 2022
Angelina Tonella, Sachi Desai, and Jordan Moniz-Ramos
We're talking about TWO months here (August & September), but holy smokes, wouldn't you know it, we've actually chosen THREE people for those two months! This is because they are all so gosh-dern awesome, we simply couldn't decide between them all, so instead decided to share the love.
Of course the AcroStaffers I am talking about are …. Angelina Tonella, Sachi Desai, and Jordan Moniz-Ramos. Take a collective bow, y'all!
These mainstays of the Party program already have their work cut out for them, just generally speaking (anyone who's never worked a party should give it a try sometime!). But with Camp in the mix last month, and various other staffing concerns at play, all three took on extra workloads to cover all of the above, and did a superb job of it! Meaning that they weren't just bodies on the floor, but thoughtful, engaged, proactively positive and very professional AcroStaffers serving as true "Acro-Ambassadors!" Plus they really hustled (it was quite a busy couple of months)! Three cheers for our three honorees!
October 2022
MeeZee
MeeZee's Acro roots run all the way back to 2012, when he first joined the crew as a PreK coach. As you can see from this delightful reel of some of his work, clearly he is a multi-talented gent, so like most coaches here, soon after his initial hire, was essentially working in every program. We were lucky to have him on staff here for a few years, until his busy performance schedule took him away to other adventures.
Fortunately for us, MeeZee rejoined the AcroStaff a few months ago, and just in time! Many of you may (vividly) recall the varied and persistent staffing needs that have challenged Acro the past few months, and MeeZee is one of the many coaches who has stepped up to ease that pain. Not only were we able to add a number of classes to the Fall schedule thanks to MeeZee's return, but he almost immediately fell into his tried & true habit of being a very helpful human, by subbing last minute and lending a hand whenever needed. PLUS we can't forget that MeeZee brings high-level coaching skills and a vibrant personality & professionalism that instantly engages with students of all ages. Many thanks for all of the above and more, MeeZee!